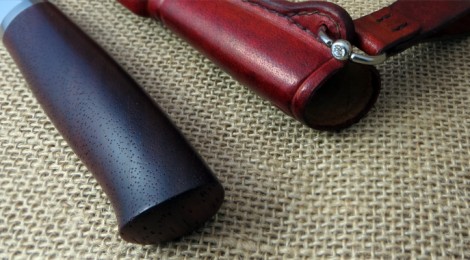 Lady's puukko
I got last November, a fine and perhaps little bit unique request from my good friend's mother. She had seen pictures of my puukkos on the internet, and decided that she also needs a proper puukko. Others had wondered about this and asked, "what's she doing with a puukko, you dangerous woman".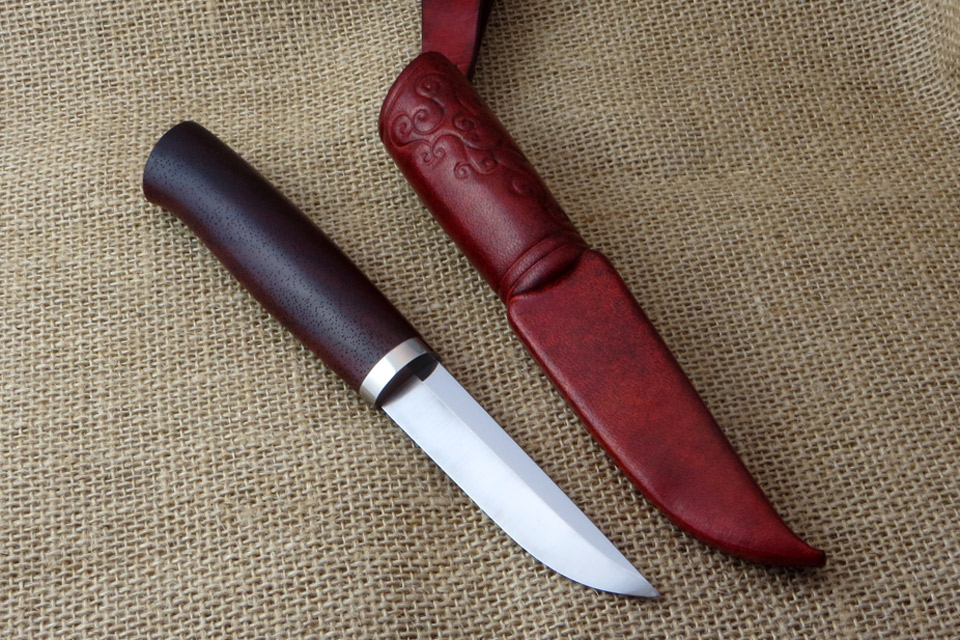 | | |
| --- | --- |
| date: | 06 / 2013 (serial #: 13 / 06) |
| blade: | Hand forged carbon steel, (Stenco Leuku) |
| handle: | Padauk (Pterocarpus soyauxii) |
| bolster: | Titanium |
| sheath: | Colored leather (pauting decoration) |
| dimensions: | Blade 90, handle 111 and sheath 189 mm |
| | (3.54, 4.37 and 7.44 inches) |
The request seemed really awesome, and I responded to those other doubts, that "Everyone got to have a proper hand-made puukko". We agreed that puukko would be ready for next summer. In fact there wasn't any other requirements. The only thing that I checked from the upcoming owner before making the sheath, that which handed she was.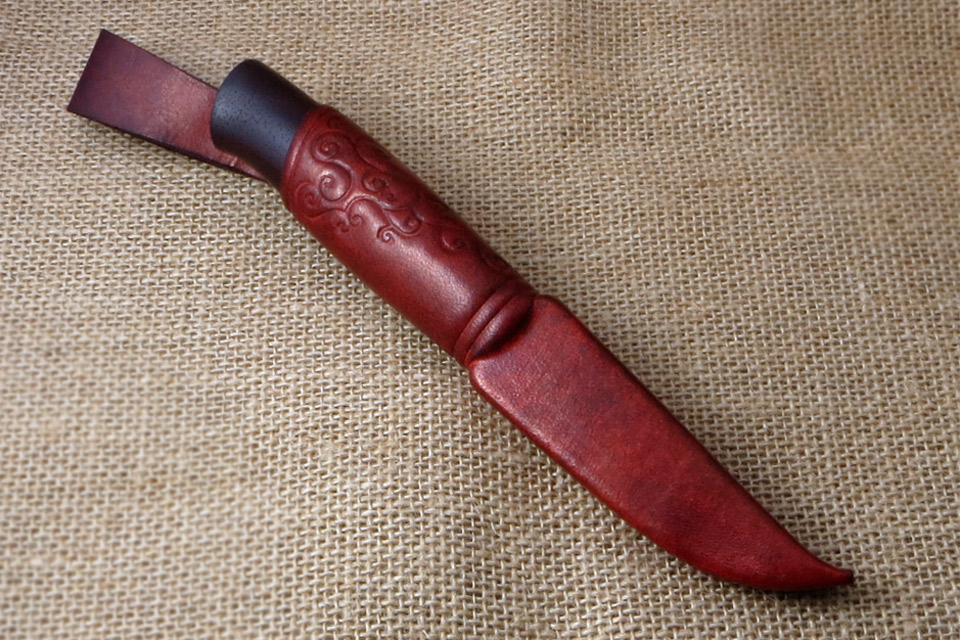 Because I had kind of free hands what came about the planning. I decided this time to use a little more exotic materials. The design, however, was familiar traditional puukko. Although this time I made puukko with glued hidden tang and handle with half-pommel.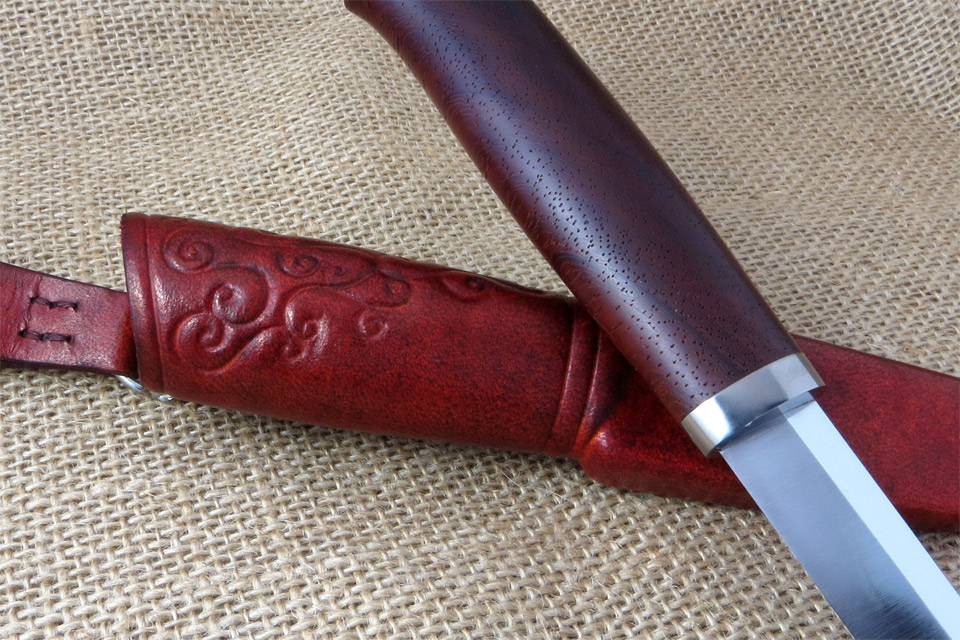 For the handle I chose piece of Padauk (Pterocarpus soyauxii), which I had bought a long time ago from Lahti. I sawed a the suitable piece of wood crosswise (cross-cut). So the tree rings came to view on the sides of the handle.
Bolster was also quite unique material, the Titanium. It is quite tricky to work with, but the final result is rewarding. When grinding a Titanium, it's good to remember that it heats up quite hard. It gives lot of sparks which are a very brilliant and blinding, with white color. Sometimes you can even hear how the sparks explode in the air. Sparks also remain easily "smoldering", so it's a good to keep eye your environment during the grinding. Because of this, I shaped bolster almost a final dimensions before I glued it to blade's tang along the handle material.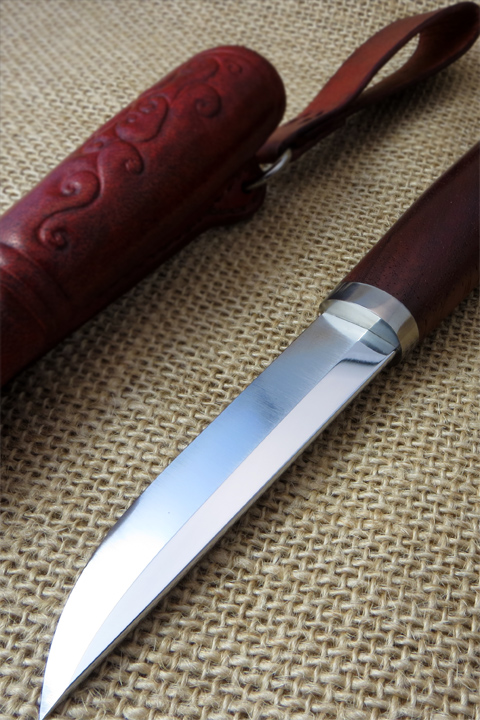 The blade I forged out from traditional carbon steel (Stenco Leuku) and of course with diamond profile. This time I didn't polish the whole blade to mirror finish. I left the blade for fine grinding and last sandpaper was grit 400. I have noticed in my own little tests that mirror polished blade doesn't whittle as good as the blade with very fine grinding. Especially, in the case of fresh and moist trees, such as willow or rowan in spring.
Is this the easier way to finish the blade than a mirror finnish? I could say that it isn't. The last grinding with belt grinder (with no speed control) is really an accurate task. Especially when approaching the tip of the blade and the end result should be even and parallel.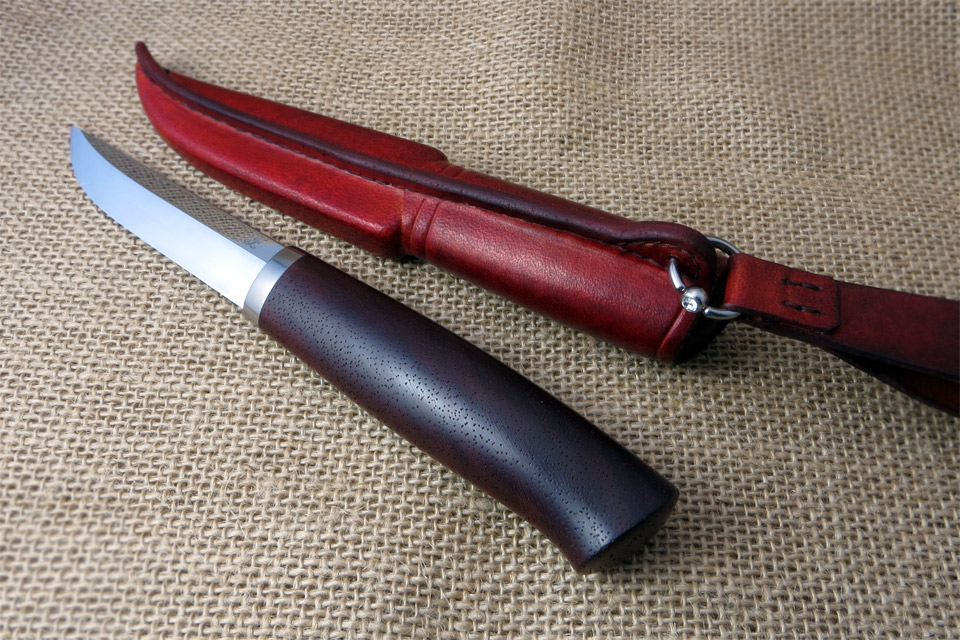 When the puukko was finished, it was time to make a sheath. I wanted to try something a bit more sophisticated decoration. After all, this was a Lady's puukko. First, I picked up a pen and planned the whole sheath on paper. Once the plan (and curves) looked good, it was time to sew the sheath.
After the seam was ready and the leather still moist. I drew the curves that I had planned to the sheath with a soft pencil. At this point, the original plan needed some fine-tuning. For example, I skipped curves that I was originally designed to the lower part of the sheath. The actual sheath decoration I carried out a sort of mixing of pauting and pressure-patterning techniques. And good tools for that job were ordinary dining knife, a tiny crochet hook and a needle.
Finally, I dyed the sheath and the puukko was almost finished. Only the hanger was missing. Since the bolster was Titanium, of course the hanger loop should be the same material. The problem was, that where to find 2 to 3 mm thick Titanium rod? However, I figured out there quite the clever solution, a Titanium piercing ring. More precisely, the so-called ball closure ring (BCR). Those were available in several sizes and after a small googling I noticed that those were not even expensive. In addition, the closure balls were made variety of most imaginative choices. That way the sheath and the whole puukko got the final "diamond" touch.
Tämä sisältö on luettavissa myös kielellä: suomi